During my recent visit to Waterloo for the Waterloo Game Swap I was very pleasantly surprised to find a real live AVS by RetroUSB. If you haven't heard about the AVS, it's newly made Nintendo Entertainment System (NES) console created by RetroUSB. It does not use software emulation and offers an HDMI port so you can play your NES games on an HD TV.
Unfortunately is was not for sale. The reason the AVS was at the Waterloo Game Swap was to promote the imminent NESathon 2016 HD. In support of Multiple Sclerosis Research the NESathon will be taking donations during this 50 hour video gaming marathon.
"NESATHON 2K16 HD will take place:
Friday June 3rd at 3:00PM EST and run through until Sunday June 5th!
We will be playing NES games for 50+ hours in HD (thanks retrousb.com) and streaming the whole thing live to raise funds for Multiple Sclerosis Research."
http://nesathon.blogspot.ca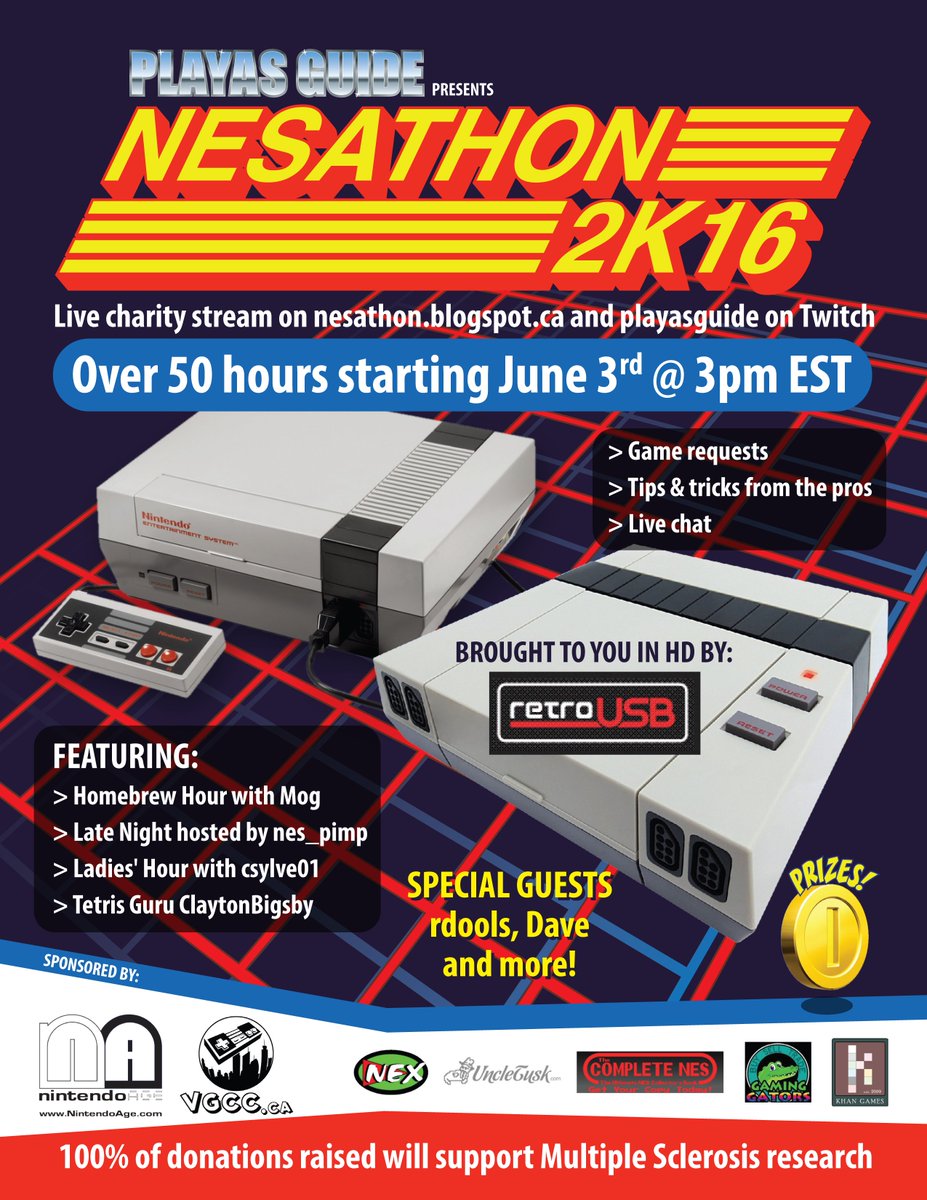 NESATHON 2K16 Official Trailer
You can find all the details here: nesathon.blogspot.ca
Although it was brief I did get some hands on time with the AVS. I was able to play Super Mario Bros. 3 for about 5 minutes. And during that time my impression of the AVS is that it does as advertised. The image was very clear like you'd expect on an HD display and I did not notice any input lag at all. The instant I pressed the button Mario would jump. Super Mario Bros. 3 seemed to play just as well as it would on an original NES.
I asked (who I believe is) the NE$ Pimp if he'd be willing to turn on scan-lines. He did and there was a very noticeable difference. I do believe I prefer the scan-lines. It really made Super Mario Bros. 3 look more authentic while still being an HD image.
My already elevated excitement for the RetroUSB AVS is climbing higher. I am very eager for news of a release date.
Below are a few pictures I of took at the Waterloo Game Swap including some pictures of the HD AVS.
Check out the line to get into the Waterloo Game Swap! Nintendo Joe and I were about half way when I took this picture. And it did not take long to get in once the doors opened.
What you see below is not quite half the size of the event floor. Nothing but piles of retro video games everywhere.
What's this? The retroUSB AVS?! It was great to get a chance to try it out first hand.
The photo doesn't show it off very well but this is Super Mario Bros. 3 is being displayed with scan lines. I really to prefer this option on.
Now's your chance to see what the HD AVS can do and see NES games played in glorious HD. Tune in to the NESathon 2016 HD, watch some fellow retro fans play the heck out of the AVS and help a good cause while you're at it.
…I wonder if the NE$ Pimp realizes that he met the Sega Dude?